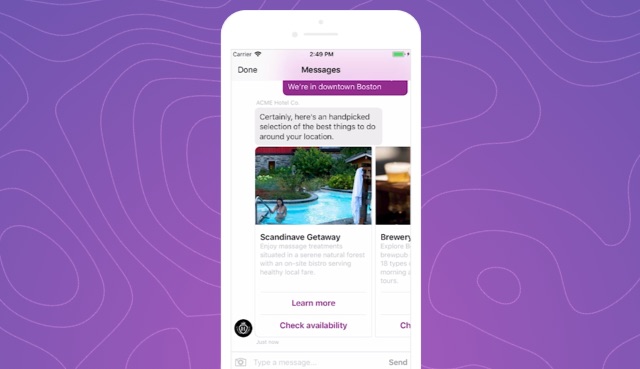 Multi-channel translator
Translate and optimize message display across channels
With one API call, your software (and bots) can support and optimize the display of rich message types, like quick replies, images, gifs, carousels, location requests, and more, across every channel.
Omnichannel experiences

Transferring a conversation from a chat app to the Smooch iOS SDK

Have a look on how a business can invite a user to transfer a conversation to another channel.

User authentication

Authenticating a user and using their profile metadata to provide better service

Learn how users can be authenticated in a conversation with a business through Smooch.

Conversation extensions

Go beyond the boundaries of the chat window

Create custom interactive overlays, to realize any use case, on any channel, thanks to Conversation Extensions.

Conversation orchestrator

Orchestrating bot-to-human handoffs with Smooch

Learn how to build a simple example of how to handle bot-to-human handoffs using the Smooch API.

Omnichannel experiences

Moving and persisting conversations from web chat to a messaging app with Smooch

Explore how a business can seamlessly move a conversation from web chat to their customer's preferred messaging app.