Starter
All the basics for starting a new messaging project
Try it free
Premium
Advanced tools for your messaging products
Contact us
Enterprise
Everything needed to run enterprise products at scale
Contact us
Starter

All the basics for starting a new messaging project

Try it free

Premium

Advanced tools for your messaging products

Contact us

Enterprise

Everything needed to run enterprise products at scale

Contact us

Pricing

$

495

/mo

Contact Us
Contact Us
Rates & volume
Monthly Active Users per month
500
500
500
Price per committed Monthly Active User
—
$0.02 & below
$0.02 & below
Price per extra Monthly Active User
—
$0.05
$0.05
Term
Monthly
Annual
Multi-year
Notification Rates & Volume
Notifications per month
500
500
500
Price per committed notification
—
$0.002 & below
$0.002 & below
Price per extra notification
—
$0.005
$0.005
Features
Channels
Standard
All
All
SDKs
Branded
Unbranded
Private Label or Source Code
Sub-Accounts
—
Available
Available
Geographic options
US
US or EU
US or EU
Sandbox environments
—
Orchestration APIs (limited early access)
Available
Available
Available
Multi-Party (early access)
—
—
Available
Support Services
Support channels
Email
Email & Chat
Email, Chat & Phone
Support hours

Weekdays

10am-4pm ET

Weekdays

9am-8pm ET

24/7 access for Production down




Weekdays 9am-8pm ET for general issues and degraded service

Case severity/Response times
—

General issue:

< 8 business hours

Degraded service:

< 4 business hours

Production system down:

< 2 business hours

General issue:

< 4 business hours

Degraded service:

< 2 business hours

Production system down:

< 1 hour

Service-level agreement
—
—
99.95% uptime
Customer Success
Customer Success Manager
—
—
Designated
Architecture Services
Technical Architect
—
Available
Designated
Onboarding
—
Launch Lite
Launch Core
Onboarding Guidance (Post Go-Live)
—
Assist Lite
Assist Core
Terms of Service
Master services agreement
Online TOS
Online TOS
Negotiated TOS agreements and redlines
DPA
Available
Available
Negotiable
Sunshine Conversations for early stage startups

Add omnichannel messaging to your product and gain a competitive edge with a discount for qualifying startups.

We're making a ton of Sunshine Conversations features available to a limited number of companies that are:

New Sunshine Conversations customer
1-10 employees
Less than $1M in funding
Must be funded by venture capital firm or part of an accelerator

Limited Availability

$95/mo

Private label SDKs
500 Monthly Active Users
500 Notifications
Standard Channels
Sunshine Conversations for nonprofits & charities
Are you a registered nonprofit organization? We'll show our support by giving you discounted access to Sunshine Conversations. Our Community plan includes up to 5,000 Monthly Active Users per month free of charge.
Apply now
Powering conversations at some of the world's smartest companies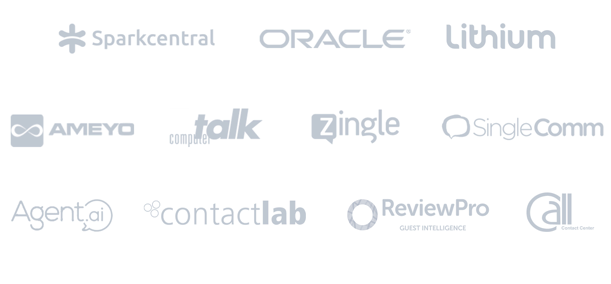 Save development and maintenance
Accelerate development and get to market faster to drive customer success and growth. Extend your communication channels to differentiate your products and services, without the ongoing maintenance cost.